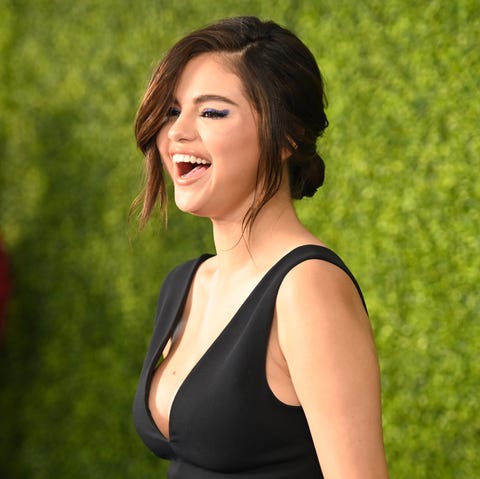 Selena Gomez might be keeping kind of a low profile lately, by not posting a ton on social media or really making the press circuits—but that doesn't mean that she's slacking when it comes to doing that pop star glow up. At her cousin's wedding today, Selena showed up looking amazing and every bit as glamorous as usual.
Selena was the maid of honor at the ceremony today for her cousin Priscilla DeLeon's wedding to Jay Cosme, which took place in Midlothian, Texas. All of the bridesmaids wore black, and Sel opted for a long, off-the-shoulder black gown with a thigh slit.
While Selena didn't post and photos from the wedding herself (yet!), other posted photos with Selena on social media. It looks like Selena was having a blast with her family and friends:
Some bits of Selena's maid of honor speech were also captured, and Selena can be heard telling her cousin Priscilla, "You taught me how to be strong," and also telling the couple, "I pray for you guys all the time."
And even though Selena obviously looks gorgeous in these photos, in an interview a couple of months ago, she talked about how she doesn't like to focus on her looks too much. She said, "I don't really appreciate people judging me on my looks or anything like that….I'm flattered when maybe guys are like, 'You're pretty.' I am, but it's just—I would just love someone to love me for the person that I am."
So cheers to Selena, a very pretty maid of honor who we appreciate for the person she is!
["source=cosmopolitan"]